Veneers – Fresno, CA
The Ultimate Method for an Enhanced Smile
Do you often feel insecure about your teeth? Most people wish for perfectly straight and flawless smiles, which can sometimes make them embarrassed of how they look. At Shinkawa Dental, you won't have to worry about the appearance of your pearly whites any longer. Our family of cosmetic dentists can provide veneers in Fresno to get you the enhanced smile you've always dreamed of! Speak with our team if you're considering getting this treatment, and we'll be happy to discuss your goals.
Why Choose Shinkawa Dental For Veneers?
Natural-Looking & Long-Lasting Results
Experienced & Passionate Dental Team
Preview Your Smile With Digital Imaging
What Are Dental Veneers?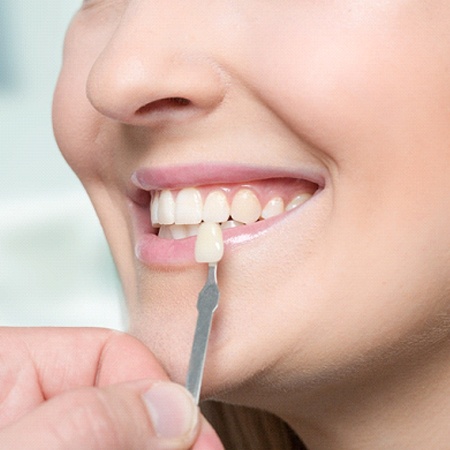 Porcelain veneers are customized wafer-thin layers made of ceramic dental material. By fusing these shells to the front of your affected teeth, we can immediately cover up most imperfections in your smile. These dental flaws can include stained, chipped, cracked, misshapen, and misaligned pearly whites. Porcelain is also non-porous, meaning they are highly resistant to discoloration and provide a virtually permanent tooth whitening solution. Since these shells are completely custom-made, we can create the right design to fit your specific smile goals!
The Process of Getting Veneers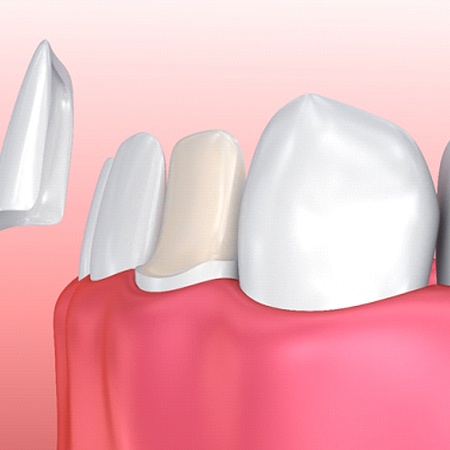 Firstly, we'll discuss your dental needs and ideas during your initial consultation. Once our team understands your goals, we'll thoroughly clean and prepare your teeth for your future veneers. Since the porcelain shells are as thin as contact lenses, we'll only need to shave a tiny portion off the front of your targeted teeth.
Digital impressions will be taken so we can design your veneers exactly as specified, and then we'll send them to a dental lab for construction. It can take a couple of weeks to fabricate your veneers, so we'll provide you with temporary ones in the meantime. Once they come back from the lab, we'll call you in to bond them to your teeth.
The Benefits of Veneers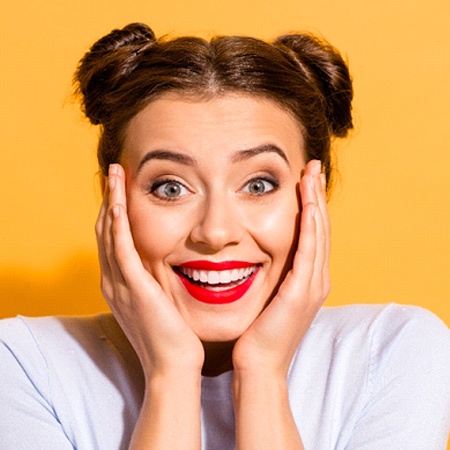 Porcelain veneers are one of the most sought-after cosmetic treatments available, as they provide the following benefits:
Improved shape, size, and color of your smile.
Natural-looking cosmetic solution.
A minimally invasive dental treatment.
Efficient results in just 2 visits.
Durable and long-lasting with proper care.
Boosts confidence.
If you would like to enhance your smile the way you want, then veneers are the ultimate treatment. Speak with our team in Fresno today, and we'll be happy to explore and discuss your options!
Veneers FAQs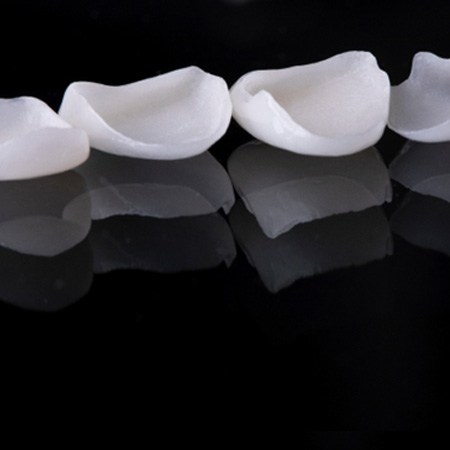 So, you're thinking of getting veneers in Fresno. Well, this is some good news to hear! The prosthetics are sure to greatly enhance your smile. However, perhaps you want to learn more about them first. After all, having the details will confirm if veneers are really for you. Shinkawa Dental, fortunately, is here to help: listed below are the answers to some frequently asked veneer questions. Read them over to find out what the shells are all about. From there, you can call our office to get other relevant details.
Are Veneers Permanent?
No, veneers aren't really permanent – they have limited lifespans and need replacement over time. (Even the best ones only last around 20 years or so.) That being said, placing them is considered irreversible.
You see, dentists remove bits of enamel before veneer placement. Doing so ensures the prosthetics fit on your teeth properly. That process, though, can't be undone; removed enamel cannot and will not grow back. Therefore, veneered teeth will always need shells to protect their surfaces. They'd otherwise suffer tooth sensitivity, decay, or bacterial infection.
Can Veneers Be Used for Bite Corrections?
Technically, veneers only change how your teeth look. You can't count on them to move your pearly whites into alignment. They can, however, treat certain bite problems.
Consider a mild open bite, for instance. Veneers can make treated teeth look longer and wider. In doing so, they'd make your chompers seem to line up correctly.
Of course, there are limitations to keep in mind. For starters, dentists only suggest veneers for bite issues that don't harm oral health but still affect looks. Orthodontics is your best bet otherwise. Plus, you'll only want veneers placed after any orthodontic correction.
Is It Painful to Get Veneers?
While placing veneers can get invasive, it doesn't hurt. Dentists work to ensure this treatment goes smoothly and comfortably.
Crucially, the dental team will numb your mouth for tooth prep and veneer placement. That way, you won't feel any pain during either treatment step. Instead, the most you'll sense is a slight pressure as the dentist goes about their work.
Granted, you may feel a tad sensitive post-treatment. This effect is more likely when a dentist places multiple veneers. (Two to four cause little-to-no pain, while eight or more can lead to soreness.) You may also have "bonding sensitivity," a sharp pain when you bite something hot or cold. Even so, such discomfort is temporary and fades after a few days.
Do Veneers Feel Like Real Teeth?
True, veneers are artificial and are usually made of porcelain or ceramic. That said, they feel just like natural teeth after a quick adjustment.
For a while now, many patients have said that their veneers feel totally natural inside their mouths. Some don't even notice them when talking or eating! The reason, likely enough, is that veneers are custom-crafted to fit perfectly on your teeth. After all, a dentist will take impressions of your teeth to ensure the prosthetics' quality. Furthermore, porcelain is very smooth and doesn't irritate mouth tissues.