Dental Crowns – Fresno, CA
Protect & Restore Damaged Pearly Whites
Do you have moderately to severely decayed or damaged teeth? Whether this was due to playing sports or a lack of proper oral hygiene, this can feel frustrating and uncomfortable if left untreated. Without dental care, you may end up requiring an extraction, which can be more costly in the long run. Fortunately, our team at Shinkawa Dental can effectively protect and restore compromised teeth with dental crowns in Fresno. Read on or give us a call today if you wish to learn more about this treatment!
Why Choose Shinkawa Dental for Dental Crowns?
Long-Lasting & Personalized Solution For Each Patient
Durable & Natural-Looking Dental Materials
Dental Insurance & Alternative Financing Accepted
What Is a Dental Crown?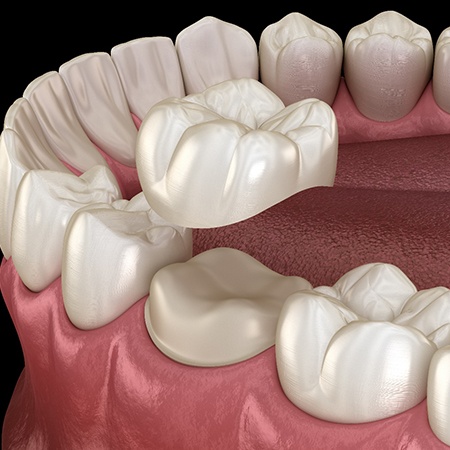 A dental crown is a custom-made and durable cap that is designed to cover and protect the entire top side of a damaged or decayed tooth. These restorations can be constructed out of various materials such as gold, ceramic, and porcelain. Not only will a dental crown essentially rebuild a compromised tooth, but it can also improve the strength and function of your bite. This treatment is typically provided for patients who are experiencing the following conditions:
A broken tooth that requires extra support
A severely decayed tooth that has a large filling
A misshapen or discolored tooth
A tooth that has received a root canal
A dental bridge that needs support from adjacent teeth
A missing tooth that was restored with a dental implant
The Dental Crown Process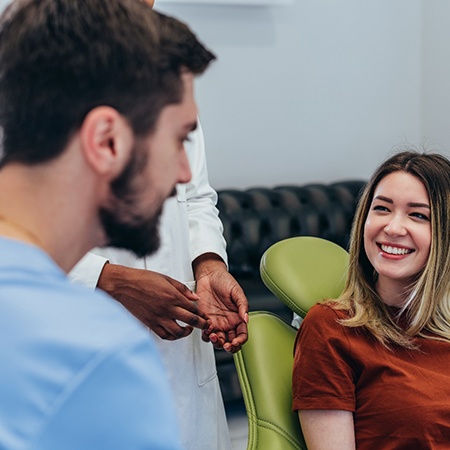 The process to receive a dental crown typically occurs over several appointments. You'll first visit our team so that we can assess your oral health and determine if this restoration will provide the best protection for your tooth. If so, then we can begin preparing it by removing a small amount of your enamel so that your crown will fit accurately. We'll take impressions of your smile and send them to a dental lab for fabrication.
You'll wear a temporary crown to protect your exposed tooth until your final ones are ready. Once we receive your permanent restoration from the lab, our team will call you back so that we can place them in your mouth. We'll be sure to make any final adjustments, polish your smile, and ensure you're satisfied with the results. Afterward, you can expect your dental crown to last around 10 years or more with proper care.
The Benefits of Getting a Dental Crown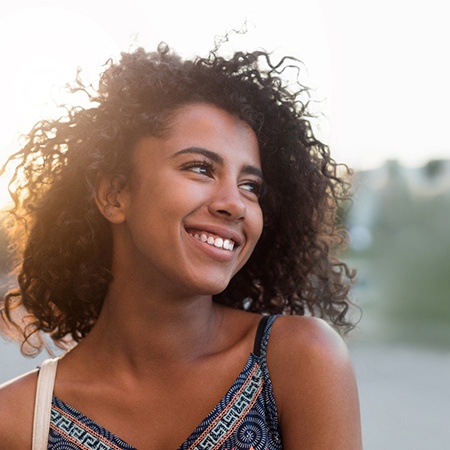 There are numerous advantages you can be sure to enjoy when restoring a compromised tooth with a dental crown. Here are several benefits you can expect from your treatment:
Increased comfort and durability
Completely personalized to match your unique smile
Effective and natural-looking solution
Improves the strength of your biting power
Protects and prevents further tooth damage
Can last 10+ years with proper dental care
Dental Crowns FAQs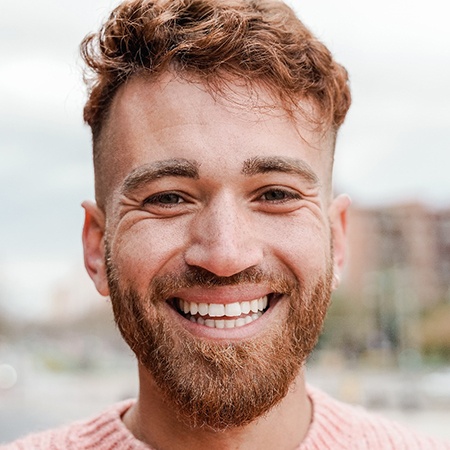 Are you in need of replacing or restoring a compromised tooth? If so, then you might be considering getting a dental crown. With this restoration treatment, you can save, rebuild, and protect your affected tooth from damage in the future. Although you may be aware of the benefits, it's normal if you want to know as much as you can about the procedure before starting it. That's why our team at Shinkawa Dental is more than happy to share some of the most commonly asked questions we get about dental crowns in Fresno. Feel free to give us a call today or read along to learn more!
Are Dental Crowns Permanent?
While dental crowns are durable and can protect your affected tooth for many years, they won't be a permanent solution. You'll have to eventually replace your restoration, but with proper care, you can expect to enjoy the results for 10 years or more. The only irreversible aspect of the procedure is that we'll need to alter the enamel for the dental crown to fit properly. Since this material won't heal on its own, you'll require a crown to cover the exposed area going forward. Fortunately, your natural tooth will be able to survive much longer because of your restoration.
Do Dental Crowns Feel Natural?
Your dental crown should begin to feel significantly more natural within a few days after receiving it. Though it'll typically be constructed out of durable porcelain material, it'll be custom-designed to blend seamlessly with the rest of your smile. Not only will it look exactly like your natural teeth, but it'll also be able to withstand the excessive pressure from chewing. This means you'll be able to enjoy all your favorite foods as comfortably as before. Over time, you may not even notice the difference in your dental crown!
Does It Hurt to Get a Dental Crown?
Similar to getting a filling, our team will make sure to numb your mouth before performing your procedure. We'll want to ensure you're as comfortable as possible throughout your treatment. However, you might experience mild soreness or sensitivity for several days after your appointment, especially if you also received a root canal beforehand. This sensation should go away by itself after a while, but you can also easily manage discomfort by taking over-the-counter pain medication. Don't hesitate to give us a call for help if any soreness or sensitivity starts to worsen.
Do Dental Crowns Get Cavities?
Dental crowns are not made of the same organic, porous material as your natural teeth. Therefore, you won't expect them to ever develop any cavities. Remember, however, that your tooth underneath your restoration can still be vulnerable to bacteria and decay. Since a crowned tooth is just as susceptible as an uncrowned one, you'll need to practice solid oral hygiene every day. Be sure to thoroughly clean your gum line where the base of your restoration is. This will help prevent germs and plaque from accumulating and slipping underneath your crown. You should also visit us every six months for checkups and cleanings so that we can assess your condition and ensure your smile is safe from any developing issues.