Dental Implants – Fresno, CA
The Modern Solution
for Tooth Replacement
While there are multiple solutions for replacing teeth, it's important to recognize that not all treatments are created equal. For example, Dr. Jerry, your dental implant expert, notes that if you want to replace a tooth that can withstand the test of time, allow you to eat all the foods you want, make oral care easy and give you the confidence to smile and speak with clarity, dental implants are the only option worth considering. To see if you are eligible for dental implants in Fresno, CA, don't wait to give Shinkawa Dental a call!
Why Choose Shinkawa Dental for Dental Implants?
Patient-Centered
Dentists and
Team Members
Implant Placement
Provided
In-House
Family Dental Office with
Over 40 Years of
Combined Experience
What is a Dental Implant?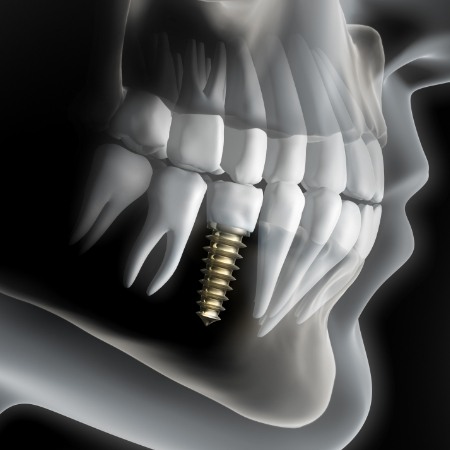 Dental implants technically refer to a titanium post that is designed to integrate with your jawbone and mimic your tooth root. However, you can also expect both a restoration (such as a crown, bridge, or denture) as well as an abutment that connects the two components together. Thanks to decades of research and development, dental implants have become the gold-standard for long-lasting tooth replacement, regardless of how many teeth you may need to replace.
The 4 Step Dental Implant Process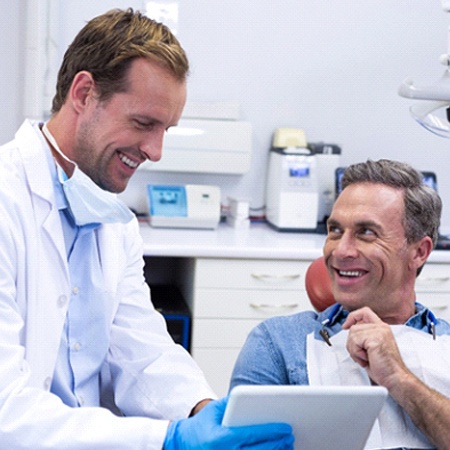 Unlike dentures are dental bridges, getting dental implants requires a multi-step process that will take several months. This may seem like quite a while, but after you consider the long-term benefits, you can see why they are worth the wait. At Shinkawa Dental, we complete the entire dental implant process in-house. While every treatment is unique, here are the four main steps that you can expect during the process of restoring your smile with dental implants.
Initial Dental Implant Consultation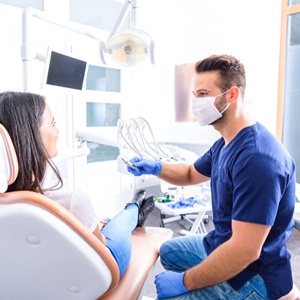 The first step when restoring the appearance and function of your smile is to schedule a consultation with us. During this time, we will take a look at your smile and surrounding facial structures. This will help us to determine whether or not you make a good candidate for the procedure and where and how the implants should be placed in the mouth. Some patients need to have preliminary procedures completed before getting dental implants, like bone grafting, gum disease treatment, and tooth extractions. After this, we can move forward to planning the rest of the dental implant treatment. At your consultation, we are also happy to walk you through the process so you know exactly what you can expect, including the timeline and cost.
Dental Implant Surgery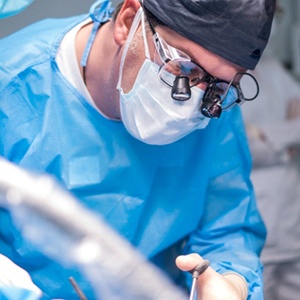 The implant placement surgery is a relatively simple one. After we numb your mouth with a local anesthetic, your dentist will make small incisions in your gum tissue to access your jawbone. The implants are then inserted at precise locations and angles. Lastly, your gums will be closed, and protective caps will be placed over the implant posts to keep them safe during the healing process.
Dental Implant Osseointegration & Abutment Placement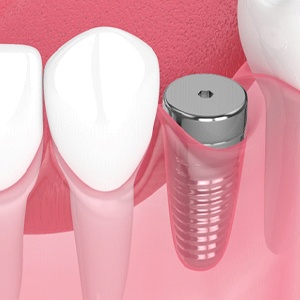 Over the next three to six months, the "osseointegration" process takes place. This is when the implants fuse with the bone and tissue to create the sturdy foundation that your replacement teeth will need to stay in place. Once this process has finished, we are able to place the metal abutment on top of the implant, leaving you with your final results.
Delivery of Dental Implant Restorations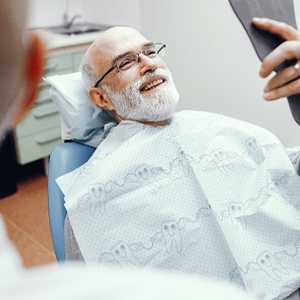 A few weeks after you have your abutment placed, your restorations should be ready. At this point, you will be able to return to the office where you will receive your crown, bridge, or denture (depending on the number of teeth that you're missing.) During this time, we will also take a look to ensure that your bite is comfortable, and then you will be ready to enjoy your restored smile.
Benefits of Dental Implants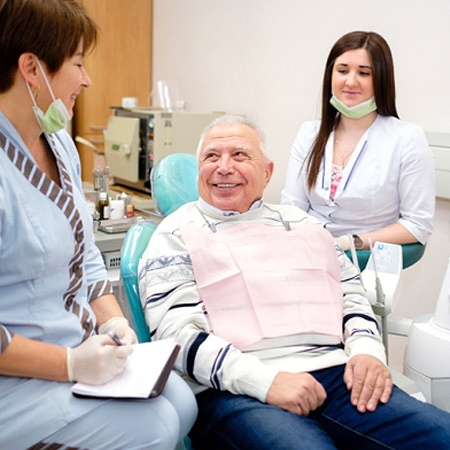 When it comes to replacing teeth, especially with dental implants, there are far more benefits that you can expect other than just a complete smile. Since dental implants are the only solution out there that replaces the entire tooth, you can have confidence in both your oral health and overall quality of life. Read on to learn how your life can change for the better once your implants are integrated and restored with natural-looking restorations!
Day-to-Day Benefits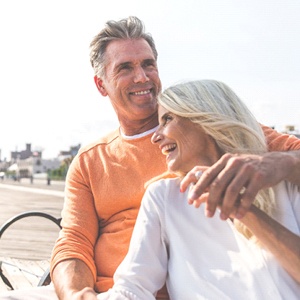 Youthful Appearance: Dental implants make your smile complete and blend in naturally with the rest of your teeth. This in turn results in better overall esthetics of both your smile and jawline, preventing your cheeks from hollowing out and premature facial sagging
Easy At-Home Maintenance: When the time comes to practice brushing and flossing, doing so is relatively simple and straightforward with dental implants. While the restoration and implant cannot develop decay, staying on top of routine oral care ensures the surrounding gum tissue stays healthy for many years to come.
No More Shifting Dentures: If you've been relying on a denture for quite some time, you know already how easily it can shift out of place. Restorations used for dental implants will always stay fixed in place, allowing you to speak, eat, and smile with confidence.
Health Benefits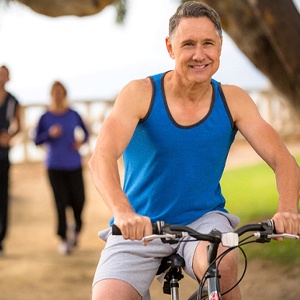 Prevent Bone Loss: Once the implants are integrated, you can prevent future bone loss inside your jaw, promote blood flow to the cheeks and gums, and ensure your biting force remains strong. This makes it easier for you to chew your favorite foods without worry of your tooth replacement coming loose.
Easier Nutrition: When you can eat more of the foods you enjoy, that includes fruits and vegetables as well. Dental implants allow you to expand your diet and ensure proper nutrition going forward.
Avoid Future Tooth Loss: The more teeth you lose, the more likely you are to lose additional teeth later in life. By replacing the root, not just the crown portion of teeth, you keep the bone tissue intact and lower your risk for tooth loss significantly.
Long-Term Benefits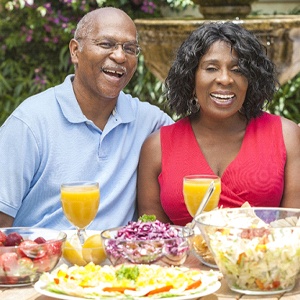 Long Lifespan: Unlike other tooth replacement methods, dental implants are the only option that can last 30 years and longer when regularly taken care of. In some cases, they can even last for life!
Reliability: Dental implants are know for having an incredibly high success rate. In fact, their success rate falls on average between 95% and 98%, so you can feel confident knowing that your dental implant treatment will be successful.
Maintain Existing Dental Structure: Your dental implants do all of the heavy lifting for your restoration, so there's no need to worry about modifying existing teeth just so an implant crown, bridge, or denture can be attached.
Who Dental Implants Can Help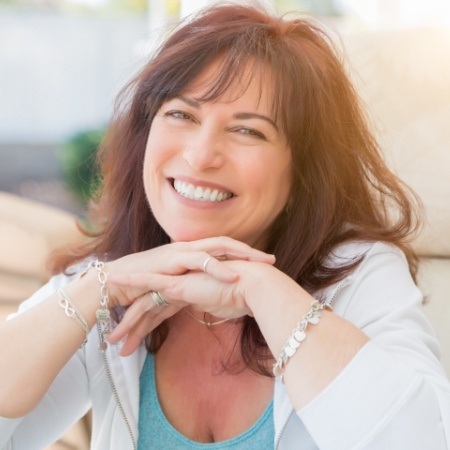 Thanks to advancements in the technology behind dental implants, it's never been easier to be eligible for treatment. Whether you've recently had a single tooth extracted, you've been missing multiple teeth for a long time, or you're just tired of relying on a denture that won't cooperate, dental implants are versatile and beneficial in various cases. If you aren't sure if they would work for you, consider them in more detail below.
Who is a Good Candidate for Dental Implants?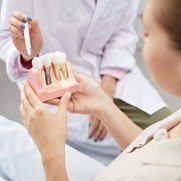 Our team will assess whether you're a good denture candidate at your consultation visit. In particular, they'll perform an oral exam and review your medical history. These steps provide detailed knowledge of dentures' qualifying factors, which include:
Good General Health – Placing dental implants counts as minor surgery, so your body needs to be sufficiently healthy for it.
Great Oral Health – Oral health issues like cavities and gum disease cause implant failure, so getting those treated before implant placement is best.
High Jawbone Density – The jawbone must have a high bone density for successful implant treatment. Otherwise, the implants will lack the support to fuse with your jaw.
That said, there's still hope even if you aren't a good candidate at first. You could opt for preliminary treatments like tooth extractions, gum disease therapy, or bone grafting. With those done, your mouth would be able to handle dental implants. We could then create your custom treatment plan around how many teeth you're missing.
Missing One Tooth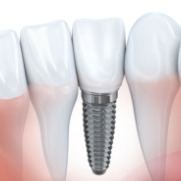 A single implant and crown usually are enough to replace a single tooth. Taken together, this pair is more durable and longer-lasting than other prosthetics. The two also don't require any removal of healthy enamel.
Placing one implant is pretty straightforward. Once inserted into the jaw socket, it'll gradually fuse with your jawbone over several months. Once the gum tissue has healed enough, the dentist will then place the abutment to stabilize the future crown. Said crown will use high-quality, natural-looking dental porcelain to ensure the best esthetics.
Missing Multiple Teeth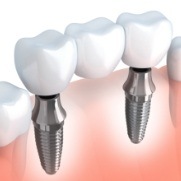 If you're missing multiple teeth, you don't need a dedicated implant for each tooth. You could just opt for an implant bridge.
Unlike a traditional bridge, the implant variety is supported by two titanium posts. As such, it doesn't modify existing teeth to secure itself. You thus get to keep more of your natural tooth structure and avoid dental sensitivity.
Missing All Teeth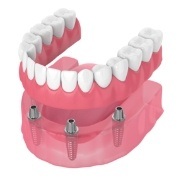 An implant denture is often the best option for those missing all their natural teeth. This restoration uses four to six implants to support a full denture, which brings back an entire row of missing teeth.
Compared to a standard one, an implant denture has several unique perks. One is that it won't slip around or fall, as it's securely fused to your jawbone. Furthermore, the appliance is easier to clean – simply brush it twice daily, floss it once daily, and rinse it with mouthwash as needed.
Understanding the Cost of Dental Implants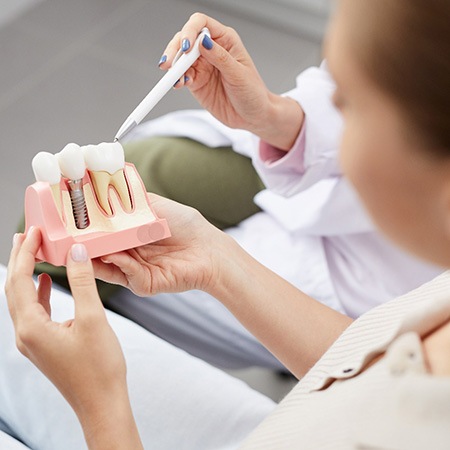 Even if you want treatment, you may worry about the cost of dental implants in Fresno. After all, these restorations get expensive sometimes. That said, implant surgery's price varies from patient to patient. As such, you'll need to consult our dentists before you can get a procedure estimate. Thankfully, though, we at Shinkawa Dental will work to make your implants affordable. Plus, the prosthetics are well worth the investment. To learn more, keep reading or call our office for an appointment.
Preliminary Treatments & Dental Implant Surgery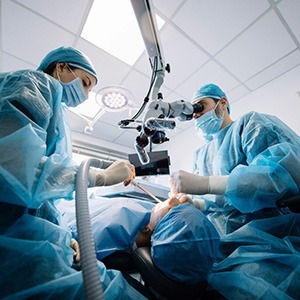 As you might know, implants depend on good oral health for long-term success. Therefore, you may need preliminary treatments before implant surgery. (Gum disease therapy, tooth extractions, and bone grafting are common examples.) Should that happen, your treatment expense will rise. Still, many dental plants partly cover these services' costs.
Meanwhile, the price of implant surgery itself depends on several factors. Implant location, the sedatives needed, and similar concerns will affect the final bill.
The Parts of Your Dental Implant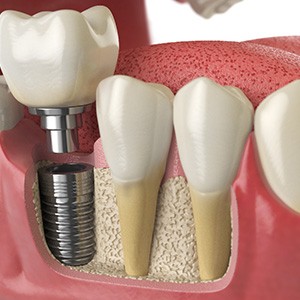 The actual implants you get will impact your expenses too. In particular, features to keep in mind are:
Implant Size or Material: Implants can have a larger or smaller price if they're made longer or shorter. Similarly, zirconia implants are more expensive than titanium ones.
The Number of Implants: Naturally, getting more implants means paying a higher amount.
Implant Brand: As it turns out, different manufacturers make implants differently. You may receive a brand with varying costs based on your dental needs.
How Dental Implants are Cost-Effective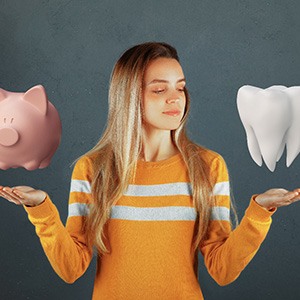 True enough, dental implants can have a high upfront cost. However, they're usually more cost-effective than alternatives like dentures and bridges.
Consider their lifespan, for instance. Implants tend to last a whopping 15-20 years on average. With proper care, this number can even be extended to 30 years or more. In either case, these prosthetics will work longer than either dentures or bridges — the latter only have a lifespan of 5-10 years. You could thus pay for one treatment instead of many cheap replacements that add up over time.
Implants are also low-cost in terms of care. Since you can clean them like natural teeth, you only need your usual toothbrush, toothpaste, and mouthwash. On the other hand, dentures and bridges would have you buy extra adhesives, creams, cleaning solutions, etc.
Does My Dental Insurance Cover Dental Implants?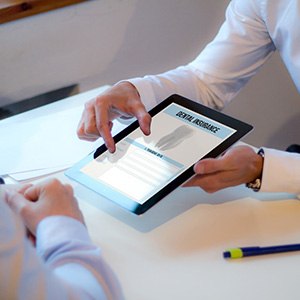 Unfortunately, most dental plans don't cover implants. Even so, there are exceptions — your plan might allow partial coverage, for instance. That being said, we'll review your policy so your benefits are maximized. You can count on us to do so, thanks to our team's years of experience.
Making Dental Implants Affordable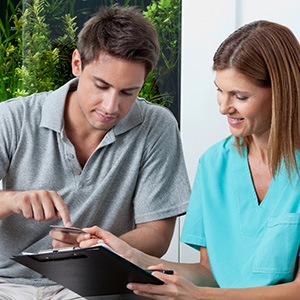 Of course, you may not have dental insurance. Nevertheless, there are still ways you could make implant treatment affordable. Shinkawa Dental happens to offer the following options:
Special Promotions: Currently, our practice has a deal where you can get single dental implants for as low as $289 per month.
Membership Plan: In exchange for a yearly fee of $299, our membership plan would give you discounts on various procedures — including 10% savings on implants!
Dental Financing: Through CareCredit, we let patients pay for treatments with low-interest monthly installments. That way, you don't have to worry about getting the money all at once.
Dental Implant FAQs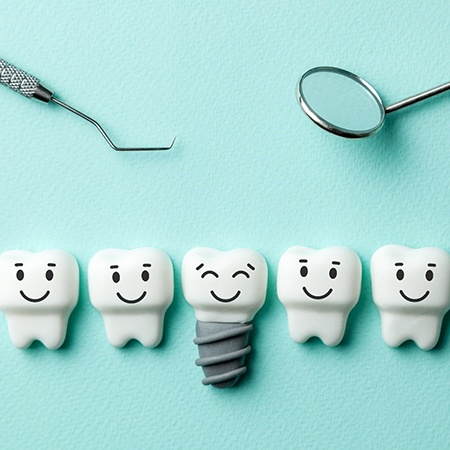 Dental implants are an excellent way to replace missing teeth, as they have so many unique benefits. However, they are quite an investment, so it pays to be well-informed about the process. Here are the answers to some of the most common queries we receive about dental implants in Fresno. If you don't see the information that you're looking for below, don't worry. Give us a call and we'd be happy to answer your questions and get you started with an initial consultation.
How Long Do Dental Implants Last?
The lifespan of dental implants typically depends on the health and lifestyle choices of the patient. To ensure that your implants last, it's important that you are brushing, flossing, and rinsing with a mouthwash every day. Attend dental cleanings and checkups regularly and avoid munching on anything particularly hard or sticky. With proper maintenance, dental implants can last upwards of 30 years! This is several times longer than traditional bridges and dentures.
Does Getting Dental Implants Hurt?
The jawbone doesn't have very many nerve endings and your mouth will be numbed with a local anesthetic before the procedure begins. You will also most likely be sedated, lowering your body's ability to register pain. You shouldn't feel any discomfort during the surgery itself, but you may experience some soreness for a few days afterward. Take recommended over-the-counter and prescribed pain relievers as directed. Cold compresses can also help. If discomfort worsens instead of improving after three days, give us a call.
Am I Too Young to Get Dental Implants?
Most dental professionals won't place implants in patients younger than 18. This is because if dental implants are placed before the jaw has finished growing, it can interfere with further bone development and potentially result in complications. Most people's jaws aren't fully developed until young adulthood. Some people's jaws take until their mid-20s to fully develop. During your initial consultation, we will discuss whether or not dental implants are the right option for you at this time.
Will I Have to Take Off Work for Dental Implant Surgery?
Most patients only need to take of one or two days to get dental implants. If your job is physically demanding, you should probably take off three or four days, as heavy exercise can divert blood from the implant site and delay healing. However, every case is different. During your initial consultation, your dentist will give you a more specific recommendation for your individual needs.
Dental Implants Post-Op Instructions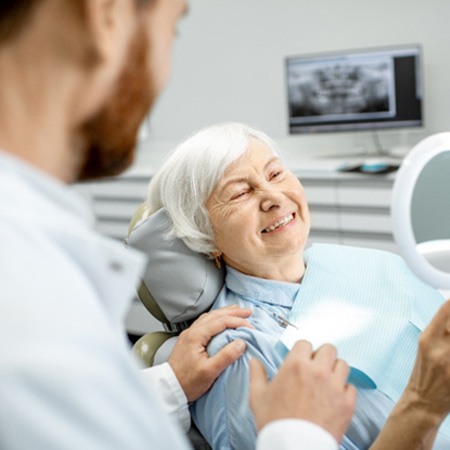 Once your implants are fully placed, the next care step is the recovery process. No need to fear, though – this post-op period shouldn't be rough! After all, we'll guide you on what to expect, common placement side effects, and ways to help your smile heal. You'll thus know how to handle yourself in the days and months following surgery. Of course, call us if you suffer abnormal pain or other strange complications. Our team will work diligently to ensure your implants operate smoothly.
What to Do Directly After Dental Implant Surgery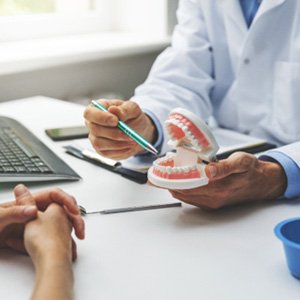 Right after implant surgery, leaving the forming blood clot alone is crucial. Your gums won't heal well otherwise. With that said, follow these rules for a while:
Rather than spit saliva, swallow it or use tissues.
Don't drink beverages with straws.
On the first day after surgery, don't smoke tobacco products.
Keep your fingers and tongue away from the surgical site(s).
Common Side Effects When Recovering from Dental Implant Placement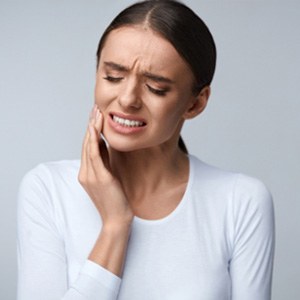 In the days after surgery, you'll likely feel mild-but-normal side effects. Among other things, they may include:
Intermittent Bleeding – The treated area may bleed for multiple days. If so, lessen the blood flow with gauze and light pressure.
Gum or Facial Swelling – The treated site could swell for the first 72 hours following surgery. Use a cold compress on the area should that happen.
General Discomfort – Once the surgery's anesthesia wears off, you might feel minor soreness. Take over-the-counter pain relievers to manage it.
Rest assured, these effects should be temporary and subside as time passes. If you find that they don't, contact us.
Your Diet After Dental Implant Surgery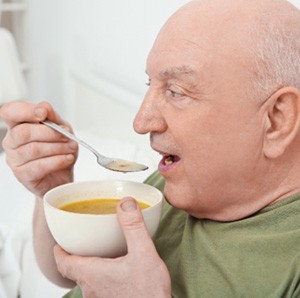 For a week after placement, try to eat soft, non-abrasive foods. Meals with hard textures could disrupt the implant fusion process.
Ideal examples of these soft foods are:
mashed potatoes
Yogurt
Ice cream
Pudding
(Non-hot) Soup
Scrambled eggs
Pasta
You can resume a normal diet as soon as you feel up to it. That said, our team still suggests limiting your intake of crunchy and tough foods. It's also best not to chew directly on the implant site(s).
Post-Op Health & Oral Hygiene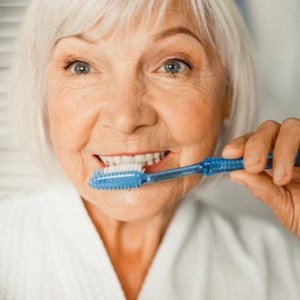 Even as your mouth heals from surgery, you must keep cleaning it. Therefore, continue to practice good oral hygiene — just make some slight adjustments.
For example, it's okay to brush your teeth as usual. When you do, though, be very careful near surgical sites.
In contrast, you should change your mouth rinse approach. Mouthwashes with high alcohol content can cause additional issues. Instead, try to rinse your mouth twice or thrice daily with salt water. The method reduces post-surgery inflammation.
What to Do After Your New Teeth Are Attached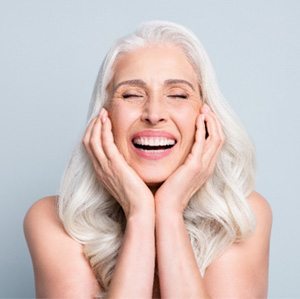 Once your implants are fully attached and you get their restorations, the hard part is over. The most you'll face is some temporary sensitivity in your gum tissue. This effect, though, is easy to manage with pain medication. Otherwise, there shouldn't be any swelling, bleeding, or extensive recovery. You'll be ready to enjoy that new smile!
Maintaining & Caring For Your Dental Implants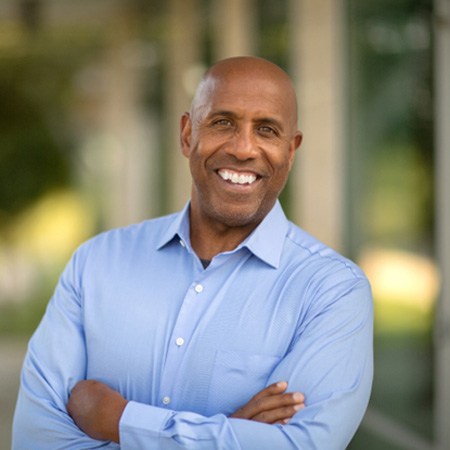 Dental implant care in Fresno is imperative if you want to ensure that your new teeth remain healthy and long-lasting. Knowing what to do to keep them looking and feeling their best is the only way you can guarantee that you'll avoid serious oral health issues that can devastate the state of your smile. To help you kickstart your journey with dental implants, here are some tips to remember as you enjoy your new and improved teeth. You can call us to schedule an appointment if you have any questions.
Making Oral Hygiene a Priority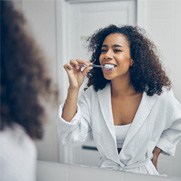 Your teeth need regular care, which means you'll need to make sure that you're brushing twice a day and flossing at least once before bedtime. However, it's recommended that you clean between your teeth after every meal. You'll also want to make sure that you rinse to flush out any remaining debris. Keeping your teeth free of bacteria and harmful particles will ensure that you avoid gum disease, which can be detrimental to your dental implants.
Eating a Healthy Diet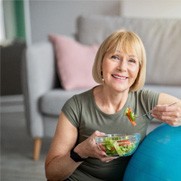 Sugars and starches are fine in moderation, but they should not make up the majority of your diet. While wearing dental implants in Fresno, you'll want to make sure that you incorporate plenty of healthy foods, such as leafy greens, lean meats, fruits, vegetables, and low-fat dairy. This will minimize the potential for any kind of tooth decay or cavities to form on natural teeth. It will also reduce your chances of developing peri-implantitis, which can form as a result of poor oral hygiene or diet.
Breaking Bad Habits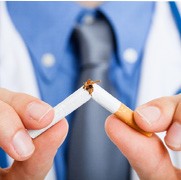 Do you bite your fingernails? Do you smoke? Are you prone to chewing on pencils and pens? If you have any bad habits, you should give them up as soon as possible. The reason is that although your new teeth are strong and durable, they're not indestructible. Any unnecessary pressure can cause them to chip or break, resulting in much more time and money being spent to try and fix your smile. Give up your unhealthy habits so that you can maintain a healthier, complete smile.
Protecting Your Dental Implants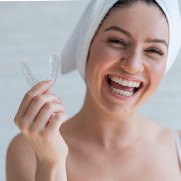 If you enjoy playing sports, you'll want to make sure that you wear a customized mouthguard. This will keep your teeth from being negatively impacted during your favorite game. Proper mouth protection is essential, no matter if you're on the field or at home. If you suffer from bruxism, you'll most certainly need to wear a protective mouthguard while you sleep so that you don't accidentally chip or crack your dental implants.
Scheduling Regular Dental Checkups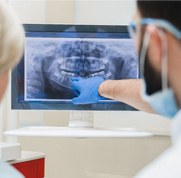 Meeting with your implant dentist in Fresno twice each year is important if you want to make sure that your new teeth are firmly in place and damage-free. Oftentimes, issues can occur that you might not otherwise see. This is why seeing a professional every six months is the best way to avoid serious issues that can occur over time. Although dental implants are designed to last decades or even a lifetime, having a reliable dentist who can administer appropriate care if necessary is one of the best ways to ensure the longevity of your smile.